Orthodontics external
DAMON TECHNIQUE
Damon Clear is part of the innovative Damon System, which combines tieless brackets and high technology archwires that are clinically proven to move teeth fast and comfortably with spectacular smile and facial results.
Damon Clear uses what's called a "passive" slide mechanism to maintain archwires within the bracket, allowing them to move freely. This reduces friction and binding, so your teeth can move quickly and more comfortably.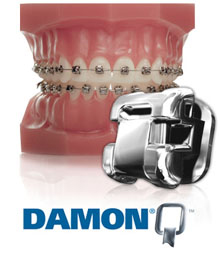 Damon technique: orthodontics external
Why Damon Clear Braces?
Damon Clear braces are more discrete and resistant to staining and discoloration all throughout treatment.
Fast treatment - clinical studies demonstrate that Damon System treatment is up to six months faster than traditional braces.
Another benefit: No need to worry about lost, misplaced or forgotten clear aligners, so you get in and out of treatment quickly
Greater Comfort without Tightening
No Speech Impediments: Some people suffer from speech impediments with invisible aligners. With Damon Clear, you don't have to worry about any speech problems.
Few office visits
Easy to keep clean
Appropriate for both adults and children
Testimonials
Dear Dr Attila Kaman,
Prior to my visits to Hungary, our host had arranged an appointment for me at your Dentistry and Oral Surgery in Budapest. This resulted in me meeting you and your colleagues for an examination of my teeth and a quotation for proceeding with dentistry work in Budapest. It is now 2 years since my dental implants were completed and I want to thank you most sincerely for your wonderful skills and the fabulous job that you accomplished with my teeth, together with you super personality and great discussions. During my treatment I met Dr Hamori Arpad on numerous occasions, the latest check-up and clean taking place in March, 2018. It was following this examination that Dr Arpad commented that the x-ray showed that my teeth looked as though they had just been fitted. It was then that I realised that I had not thanked you before, so I want to extend huge gratitude to you all, Dr Kaman, Dr Hamori and all your colleagues, for your top professionalism, your care and kindness and for making me so grateful in having such a good mouthful of teeth in my 88th year!
Thank you all very much.
Yours most sincerely
J. Aled G.
27th March 2018