Orthodontics
Having a beautiful, healthy smile is more important than ever before. Oral and dental health is not only an important part of general health, but also plays a significant role in our personal relationships, when taking a new job, etc. Crowded teeth can be unattractive and more difficult to clean.
The purpose of orthodontics is to treat any type of malocclusion which means your teeth, lips and/or jaws don't line up the way they should. As a result, your teeth may be crooked, your bite may not work correctly and your jaws may look unbalanced. To fix bad bites, orthodontists use braces and other corrective procedures, including materials often called "appliances" to achieve tooth and jaw alignment. This correction of the teeth and their supportive structures makes for a healthy, attractive smile.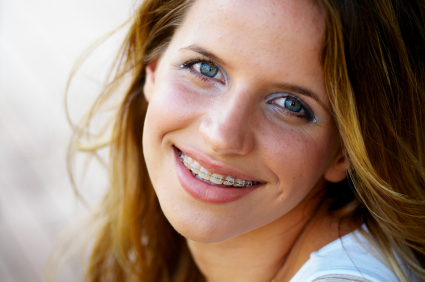 Get a perfect smile!
THE ORTHODONTIC TREATMENT PROCESS
Orthodontic treatment is only recommended if you have good oral health with no carious teeth or gum disease, therefore the procedure begins with a thorough dental examination. Orthodontic records consist of:
Panoramic X-ray: taken for the dentist to see the current health and level of jaw bone.
Cephalometric X-ray: captures the side profile of the pateint. The ceph not only includes the teeth and bone, soft tissues and also distinguishable, which helps the orthodontist predict how the bone structure will change during during orthodontic treatment.
Dental impressions: used to obtain an accurate replica of a patient's mouth. These study models are used by he orthodontist to study the current position of the patient's teeth, and predict the future relationship between the upper and lower teeth.
After obtaining the completed records, the orthodontist will have a consultation with the patient to discuss the potential treatment options.
VARIOUS TREATMENT PROCEDURES
Baby teeth typically don't require orthodontic treatment. Early intervention is needed only for the purpose of muscle therapy, logopedic tratment, or for the elimination of bad habits.
More serious orthodontic treatment may begin during a transation period with both deciduous teeth and permanent teeth (mixed dentition), usually with removable or simple fixed appliances.
In the mixed dentition, the goal of orthodontic treatment is to maintain or improve arch integrity for the eruption of the permanent teeth, and to prevent the development of a more complicated malocclusion.
In the case of permanent teeth, the best aesthetic result can be achieved with the use of fixed appliances Fixed orthodontic appliances can be attached to the front surface of the teeth (labial orthodontics) or to the inner surfaces (lingual orthodontics).Both are efficient and achieve accurate and predictable movement of teeth.Traditionally labial orthodontics has been the most common but it's visible and the metal brackets very obvious. Ceramic (tooth coloured) brackets are the most discrete labial brackets and can hardly be seen thus giving a rapid, predictable and almost invisible solution. Lingual orthodontics is virtually invisible – you can have your teeth straightened and no one need know. It's more difficult to manage than labial brackets and a lot less comfortable.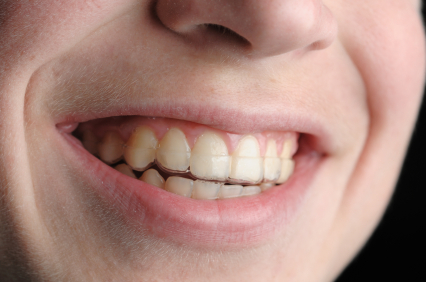 Invisible Orthodontics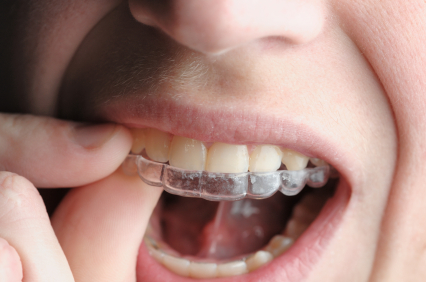 Invisible Orthodontics
USEFUL INFORMATION
Like children, adults can receive the same benefit of an improved smile and oral health from wearing braces. However, since adults are no longer growing, treatment may take longer than it does for teenagers. The average adult wears braces for 18 months to three years. After braces are removed, you may need to wear a retainer to maintain the results of your treatment.
Occlusal splint therapy
Occlusal splints are removable dental appliances carefully molded to fit the upper or lower arches of teeth.
They are used to protect tooth and restoration surfaces, manage mandibular (jaw) dysfunction TMD, and stabilize the jaw joints during occlusion or create space prior to restoration procedures.
correct deep overbite
eliminate strain on your teeth, jaws and muscles
reduce the symptoms of temporomandubular joint disorders
A night guard, a custom-made plastic dental appliance that fits over your top or bottom teeth. Night guards are usually worn while you sleep. The goal is to reduce the wear and tear grinding causes your teeth, helping to improve a bad bite. To achieve the desired result, splints should be worn for 3-4 years.
Testimonials
Just back from Budapest and pleased to report that you have exceeded all my expectations The clinic was superb and way better than what I've expected and Attila was excellent along with the rest of the team.
Once again thanks for your help.
Peter C