Our patients' success stories
Annette Elisabeth Walker
Our patient visited our clinic in May with advanced paradontological problem and missing teeth. A few months later she told her story with a beaming smile:
"I had an accident when I was a child and smashed my face, which led to the removal of 5 teeth with a black rubber mask being used. From that time on I had the biggest phobia of dentists. My mother was still taking me to the dentist at the age of 31 and I was even put to sleep for a check up. After, I moved away and I have never went to the dentist again for almost 30 years.
This year my teeth were in a terrible state and I was so scared and nervous, ashamed and embarrassed with the state of my mouth, that for some years i had stopped loving myself and felt so ugly. I knew I had to face my huge huge fear. So I began my search, in other countries, and after 2 weeks studying different clinics, I found Implantcenter and I had my first consultation with Dr Nemeth.
In June I had the operation with Dr Attila Kaman, again so calming, and non judgemental. After the operation, Dr Kaman told me that it was the right time to have had my procedure and that my body will be thanking it as I had been fighting an infection for at least 10 years. In November I was back with Dr Kaman and Dr Nemeth for the fitting of my new teeth and I felt and looked great, I had no pain. When the work was complete, I looked in the mirror, and I cried, I never for one moment thought I could look and feel this great ever again.
During my treatment, the overall team was so very helpful and informed me of my plan, arranged one of the apartments above the clinic, which is great, and dealt with any questions/queries very quickly. The clinic is absolutely lovely, it makes you feel calm, the atmosphere is calming, and there is no smell of a dentist. All the staff are so calming, thoughtful, and made me feel really special.
Because of them I love myself again!"
Annette's confident smile was provided by metal ceramic crown and bridge built on 11 Camlog implants. Because our patient had extremely high level of fear of dentists and dental interventions, most of her treatments were performed under general anesthesia to ensure a completely pain relief.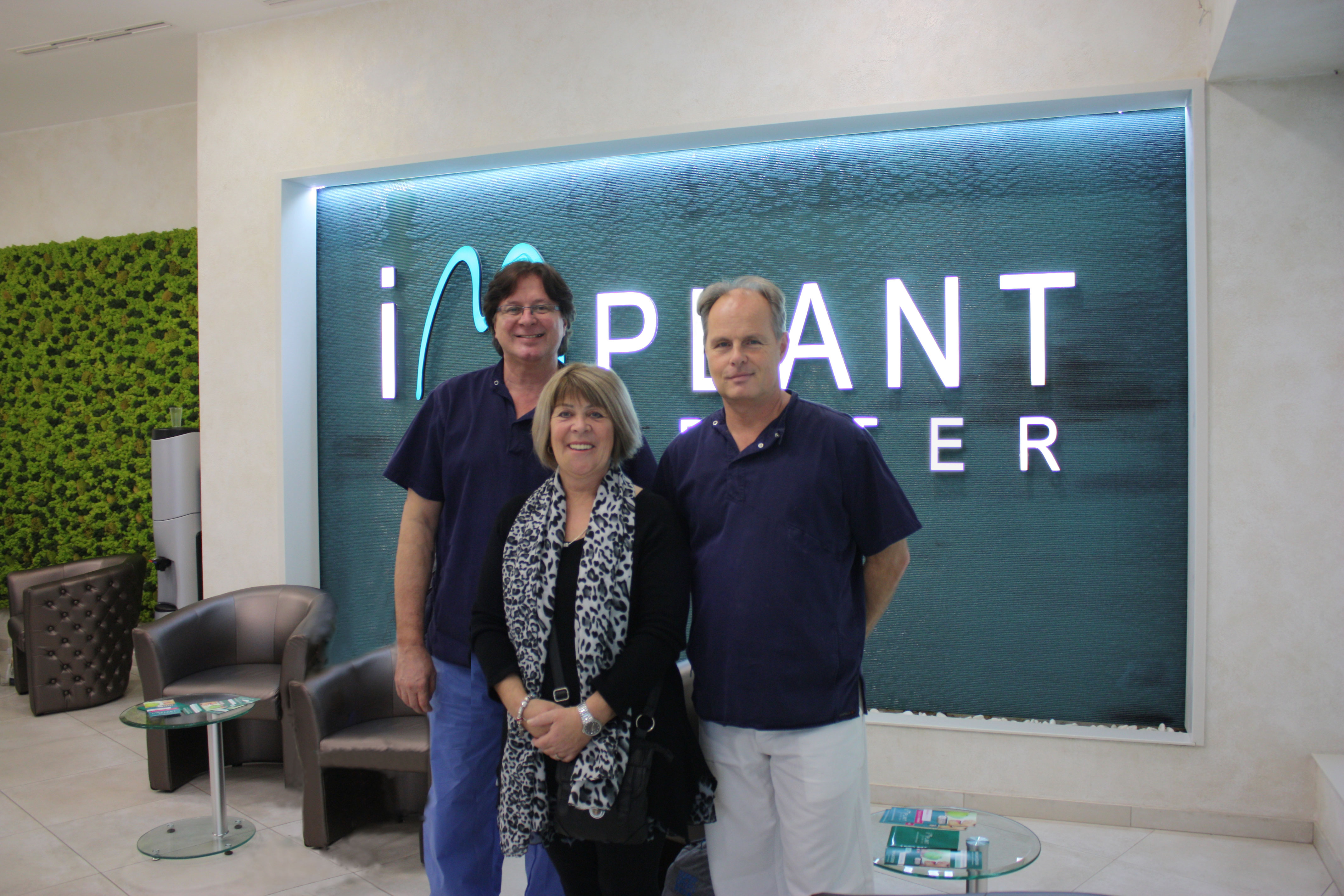 A new smile with a sister's support
Christine, a patient in her 50s had been concerned with the gaps between her teeth for ages and she was longing for a more aesthetic smile. However, she did not have the courage to visit a dentist earlier to have her problem solved. It was important for her to have her sister beside her during the treatment to receive support and encouragement. As her sister was also struggling with dental problems, they decided to visit the Implantcenter dentistry in Budapest together.
As a first step of the treatment, Christine's gingivitis had to be treated, which was a result of inappropriate oral hygiene habits, and bacterial plaque accumulation.
Her severe periodontal disease lead to extensive tooth decay which resulted in a great deterioration of the teeth and this made the removal of her upper teeth necessary by our specialist. As a result of the periodontitis, the bone around the roots weakened and bone resorption process began. Bone augmentation surgery therefore became inevitable before the preparation of a well-functioning denture.
After the successful bone augmentation, our patients's upper jaw had sufficient amount and quality of bone to accommodate Nobel Boiocare dental implants.
Most of Christine's lower teeth could be saved by our specialist, because her teeth were the least affected by periodontal disease around that area. Fortunately, only her bigger molars had to be removed. We replaced the missing teeth with 2-2 Nobel implants in order to create a perfect bite.
Approaching to the end of the treatment, the siblings choose the shape and color of Christine's porcelain crowns fused to metal anchored on implant together, with the assistance of our specialist.
At the end of the successful treatment, Christine left our clinic with a satisfied and confident smile, which is reflected in the testimonial she shared with us after her treatment:
"Thank you for all your great work, Implantcenter team – I regained my smile and confidence with your help. I can't express my gratitude enough!

Christine ☺"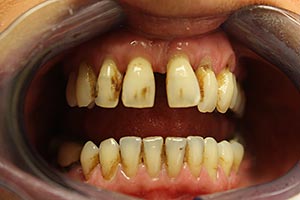 Before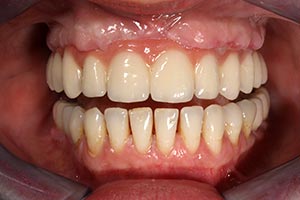 After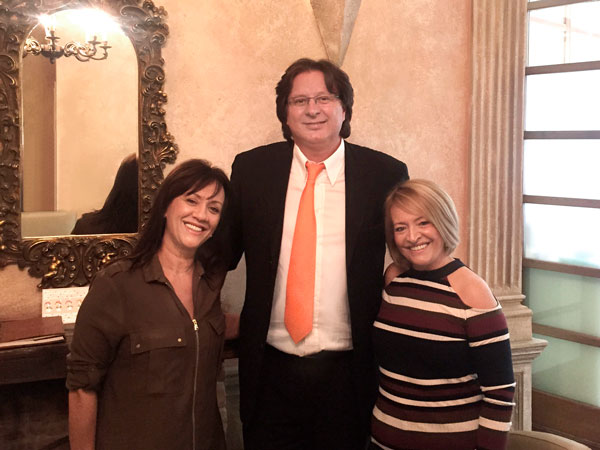 Perfect smile for a complete life
Alain contacted our clinic because his upper and lower teeth became loose. Eating caused him difficulties and smiling in front of people made him feel uncomfortable. He was seeking a lasting and reliable solution, so we recommended him to undergo a dental implant treatment.
Moving teeth, that Alain was also struggling with, can be indicator of serious dental problems. Unfortunately, in order to have a healthy gum again, some of Alain's teeth had to be removed, a procedure which was carried out by our surgeon quickly and painlessly. Then he received high-quality, affordable SGS implants to replace his missing teeth.
Dental implant treatment is already like routine treatment for our specialists, so they made the decision fast, which and how many implants would Alain need. The method we applied was the so-called all-on-6 implantation technique, which was used in the upper and lower jaw. Their stability was ensured by a natural collagen membrane in the lower front region to allow proper ossointegration and lasting teeth replacement.
Age is an important factor in case of tooth implants, which was taken it into consideration by our specialist when he chose Alain's implants. The system called all-on-6 implantation technique is based on fastening 6 implants in specific locations to create a force that enables the attachment of bolted dentures or a bridge containing 12 teeth. In cases when initial bone matter is insufficient in quantity or quality, the rehabilitation can be done with 6 implants to better distribute the pressure between the points. Alain received an implant supported bridge on the lower jaw, the best solution that could be adopted in that region.
After extraction it is recommended to place dental implants as soon as possible in order to minimize bone loss. Our specialist planned the treatment accordingly. In the present case, we had to wait until the necessary healing period was over. Alain received a temporary denture during the healing period to preserve the aesthetic appearance of his teeth.
Following a 4 months healing period, our patient returned to the clinic to have the crownwork done by his dentist, 12-12 porcelain-fused-to-metal crowns were fabricated on Alain's upper and lower implants.
After the treatment our patient regained his self-confidence, confident smile and the possibility to have joyful meals again.
He expressed his gratitude with the following lines:
"I owe a big thank to the entire Implantcenter team. The result of the treatment is absolutely perfect. A special thanks goes to my dentist, who demonstrated such professionalism I have never experienced before, and the patient coordinators who served as my interpreter during the treatment. Thank you very much again!"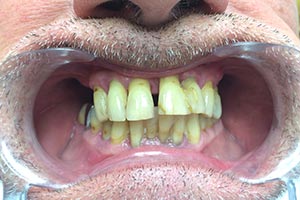 Before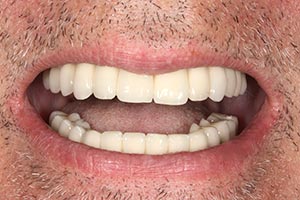 After
Aesthetic smile – it is never too late to make our dreams come true
Teresa has been concerned about her crowded teeth for a long time, so she decided to come to our clinic to seek medical assistance. It turned out, that an impacted upper incisor was the source of the problem, which didn't erupt properly through the jawbone. Due to the belated treatment of the tooth, it became a hotbed for bacterial infections and inflammations. These could have resulted in more serious problems, for leaving the tooth untreated could have ended up in the development of a focal disease or cyst.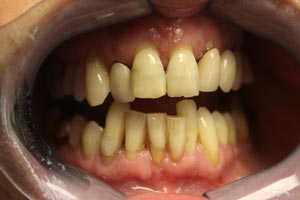 Before treatment
Apart from the impacted tooth, she also suffered from periodontal disease. As a result, many of her upper teeth had to be removed by one of our specialists to ensure a healthy gum and aesthetic smile.
Missing teeth have to be replaced as soon as possible in order to prevent bone resorption. The best way to replace missing teeth is to use dental implants according to our oral surgeon. Before the dental implant placement, sinus lifting surgery was necessary on both sides due to Theresa's advanced bone resorption. After the bone augmentation, Teresa received 16 Nobel Branemark implants and a bridge on each dental arch, composed of porcelain-fused-to-metal crowns from our specialist of implantology.
After the treatment Teresa left the clinic satisfied with a happy and confident smile.
"I am so happy to have decided to complete my dental treatment at this fascinating clinic. Dr. Attila Kámán did an amazing job, he is incredible in his profession! I can't thank them enough. At last I have a smile I can be proud of. I owe many thanks to the whole Implantcenter team, they are fantastic! Teresa"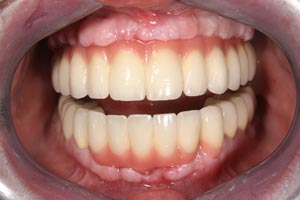 After treatment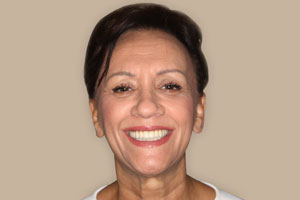 It is never too late to make our dreams come true
Amanda's success story: "I feel much younger!"
Amanda received dental implants at another dental clinic but eventually lost her trust in her dentist. She contacted our clinic to have dental crowns prepared on her existing implants.
Her natural teeth were worn down from teeth grinding and their aesthetic appearance was ruined. Moreover, several of her teeth were missing which caused her difficulty in eating and hindered her from living a full life.
Following a consultation and thorough dental examination, our specialists prepared a personalized treatment plan for Amanda including detailed information about the type and duration of the proposed treatments.
First, her missing teeth were replaced with the world-leading Nobel Biocare implants and porcelain-fused-to-metal crowns. Then the aesthetics of the front teeth were improved by natural-looking zirconia crowns.
Amanda was so satisfied with the final result, that she offered us herself to publish her photos on our website as reference for future patients. She shared the following kind words with our dental team:
My dentist is so gentle, I have never met a dentist like her before. She did an excellent work, and the dental treatment plan included exactly the same price as I paid at the end of the treatment.
Come to the clinic and discover the excellence of the dental team yourself. My friends called me brave for commencing the treatment. Finally, I also realised that there was no other alternative: the prices and professionalism of Implantcenter is superlative!
A big thank to you all at Implantcenter:
Amanda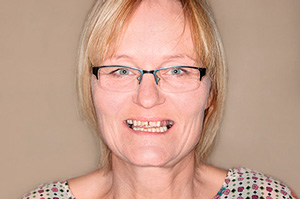 Before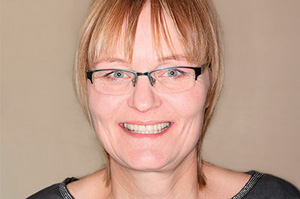 After
Confident smile makes you happy
Denis had inherited missing teeth which means that his canines could not attain full growth. We replaced the tooth number 23 with implant, which is like an artificial root placed into the jaw. Because of the malformation of the enamel, his treatment required not only surgical but aesthetic work as well.
At the front area we placed zirconium crowns, which have the most natural appearance. Porcelain crowns fused to metal were inserted at the back area which were financially and functionally the best solution for Denis.

The patient sent a message at the end of treatments:
"When I came to Budapest, I was less confident about my smile. Implantcenter have changed everything. They have transformed me into the man every lady would admire. My smile has never been better. The staff have been excellent and I have had a great time as a patient at the clinic. All I have to say is thank you all for the job well done.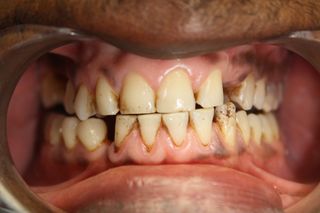 Before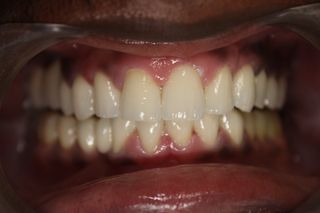 After
A new smile
Our patient came to us with moving teeth, that were beyond all professional possibilities to stabilize and save due to progressive end stage paradontal disease and bone loss. Due to her social status she really wanted to have a beautiful smile provided by fixed bridges, instead of removable dentures. Most unfortunately we really had to remove her teeth as her status was obvious looking at her original OPG. Thus she really become edentulous (without any teeth) when we embarked to reconstruct her smile.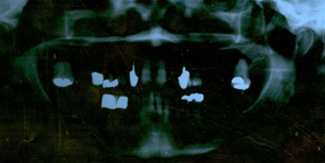 Before implantation procedure
Our oral surgeon performed bone augmentation (Onlay and sinus lifts) with 9 implants into her upper jaw and 5 implants were placed into the mandible. Following the implant placement and healing we took the impressions, checked the metal basis and finally we fixed the new bridges.
Great care was taken, that the new crowns should provide the high demand esthetics with their natural forms and sizes, which taken into account the high degree original bone loss, was enhanced by using pink/ gum colored ceramics to keep the length of the crowns within the demands of the final esthetics.
X-ray views of the osteointegrated implants, the screws fixing the bone blocks are also visible.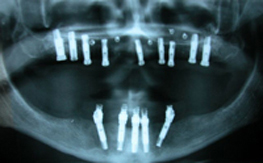 Lower and upper implants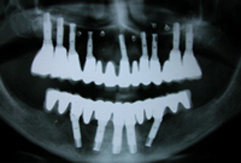 With Branemark bridge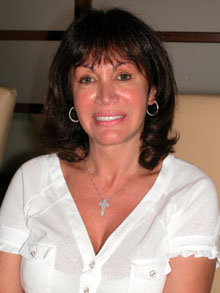 After dental implantation procedure
Hollywood smile within a week!
Not very log time ago a nice, young gentleman came to us with his problems. As he originally wanted to have nice white teeth and to improve his look, he bought abroad a tooth whitening home appliance. He tried to do follow the instruction at home but unfortunately it was not the best course of action under the circumstances. His teeth needed nevertheless dental treatment, his preexistent conditions were worsened his teeth become carious, and sensitive. He came for help to us with this situation: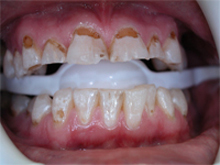 Before treatment
As his upper front teeth were also protruding slightly with an anterior open bite, he not only wanted a beautiful Hollywood style smile but also a normal bite.
Our team of experts, have satisfied his dreams within a week.
Within a day he underwent preparation of his teeth, root canal fillings, built up his teeth with porcelain posts, and the preparation of his temporary crowns. He had to wear these cowns for a couple of days only, not to live with his prepared teeth, until he got the final Procera crowns sent us from Sweden according to our impressions.
Beautiful smile self confidence following the completion of the dental work.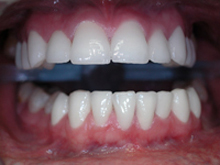 After dental treatment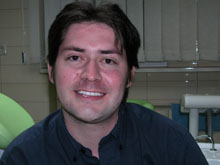 A smile from Hollywood within a week
This beautiful work, as you can see, was really done here in Budapest in a weeks time!
Nothing to hide any more...
When the patient first time arrived to us asking if we could improve her smile, so she should not need to hold her hand in front of her mouth when smiling, and we said, well, we can do the trick for you, she was so happy with the quick and reassuring answer of our dentist, that with the next smile, she even forgot her tooth covering reflexes. Well this is how the treatment started…
During the consultation it turned out that some of her dental caries was so deep that even the nerve chamber of some of her teeth were involved…She was indeed complaining for years of sensitivity and recurrent pains of her teeth…to avoid further problems she needed also some root canal treatments and fillings to avoid recurrent infections and pains. Only after the cleaning of the dental cavities and caries we can make the root canal treatments, fillings and the necessary preparations for crown and bridgework.
Unfortunately some of her teeth were too bad for salvage and we had to remove them. To have enough posts for fixed bridgework, she needed some implants also. As she was missing many teeth for decades, she had also major bone resorption, thus she needed also sinus bone augmentation (bone graft to sinuses) during the implant surgery.
Following the healing of the implants we used crowns as prosthesis.
As we could not use immediate loading 3 months had to be waited for the full healing of the lower implants, but as we can see it was worth the patience...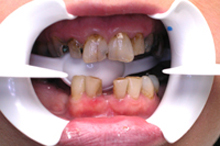 Before implantation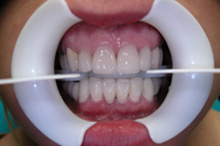 After implantation
Impossible? A word not existing in our library...
This patient of ours was delaying definitive reconstructing works on his teeth for decades, for the reason of fear. He was afraid of a long serious of painful and long dental procedures when the whole would start. Nevertheless after a long time eventually convinced by his wife, he embarked on the treatment. Despite his age being worried as a child he finally forced himself into our dental chair. Fortunately following a long consultation when he got answers to all his questions his fears grossly reduced and eventually started the treatment with full confidence.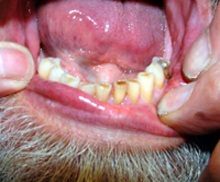 Before first implantation treatment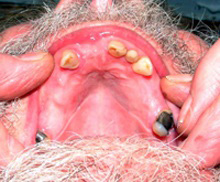 Before second implantation treatment
Fortunately in this gentleman's medical history there was nothing serious noted that could contraindicate our dental and surgical plans. He had only vague history of allergic reactions to penicillin in the past.
As you can see our patient arrived with eight missing teeth in the upper jaw and we also had to remove one additional tooth.
As a next step we performed bilateral (both side) sinus lifts (bone augmentation to the sinuses e.g. between the bony floor of the maxillary sinus and the elevated sinus membrane) together with placing 7 implants into the upper jaw. As he was missing his molars and premolars in his bottom jaw with no tooth in the far end (free and no possibility to prepare a conventional bridgework) we implanted 2-2 implants to both sides to reconstruct the basis for posterior molar support.
We also had to remove the mobile lower left central incisor (31) which had major paradontal disease.
The patient got a long term temporary bridge for the lower jaw and a temporary removable prosthesis for his upper jaw for the healing period. In 6 moths time we met again when the final, definitive dental work started.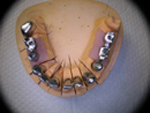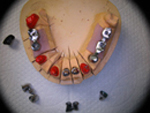 As a general good state of his upper right 7 (17) lower left 3, 4, 5 (3,4,5) and lower right 3, 4,5 (43, 44, 45) they did not need any dental work.
We have chosen the shape and color of the crowns according to the patients age and remaining teeth for a more natural look.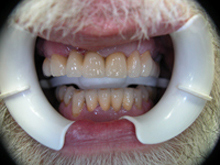 After implantation
Testimonials
This was the best experience of my life from my arrival till my departure if we can say that about a dental clinic. Despite of being extremely busy, the kind reception lady was patient and attentive with all the assistants together. I would only say this about my oral surgeon: he extracted all (I mean all) of my wisdom teeth and I had no pain at all. Everybody was at the highest level both professionally and personally. One of the most organised places I have recently seen. Thank you.
B. Barbara